War crimes tribunal takes Prosecutor Tureen off all cases for 'meeting suspect'
Published/Broadcast by : BD News 24
Date : Tuesday, 31 July 2018
Author : Pias Talukder
Published at (city) : Dhaka
Country concerned : Bangladesh
Keywords : tureen afroz, Tureen Afroz and Wahidul Hoque, Wahidul Hoque
Language : English
Entry Type : Uncategorized
Source : https://bdnews24.com/bangladesh/2018/05/10/war-crimes-tribunal-takes-prosecutor-tureen-off-all-cases-for-meeting-suspect
Publication Date : Thursday, 10 May 2018
Content :

The International Crimes Tribunal has pulled Prosecutor Tureen Afroz out of all cases for allegedly handing case documents to a war crimes suspect in a secret meeting.
Chief Prosecutor Ghulam Arieff Tipoo in a letter to Tureen on Tuesday asked the lawyer to submit all case documents back to the tribunal.
He said he was doing so to save the tribunal's image for the sake of transparency.
The suspect Tureen had allegedly met is Muhammad Wahidul Haque, who had headed National Security Intelligence and the Department of Immigration and Passports.
Tipoo said in the letter the alleged meeting took place at a restaurant in Gulshan on Nov 19 last year, eight days after Tureen was given the case.
The ICT chief prosecutor also said they came to know about the around three-hour meeting and her phone conversation with the suspect the day before the meeting from audio tapes recorded on Wahidul's mobile phone.
Gulshan Police Station OC Abu Bakr Siddique brought to the prosecution's attention the records after police arrested Wahidul on Apr 24 and seized his mobile phone, ICT investigation agency's senior coordinator Mohammad Sanaul Haque told bdnews24.com on Wednesday.
In another letter on Monday, Tipoo withdrew prosecutors Tureen and Tapas Kanti Baul from the case against Wahidul and put on it Zead-Al-Malum, Mokhlesur Rahman Badal, Sultan Mahmud, Md Shahidur Rahman, Md Zahid Imam and Rezia Sultana Begum.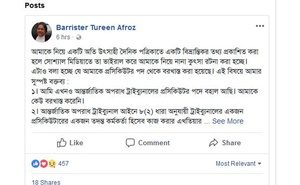 Tureen, whose cases at the ICT include that against Jamaat-e-Islami ideologue Ghulam Azam, has denied any wrongdoing.
She said in a Facebook post on Wednesday she has not been sacked, contrary to some media reports.

The ICT prosecutor, citing related law, said in her defence that she had the authority to act as an investigator and take different strategies during inquiry.

She claimed she had informed her superiors in the prosecution about everything she had done.

But ICT investigation agency senior coordinator Sanaul said Tureen had not.

ICT Prosecutor Zead-Al-Malum also said the prosecution had no knowledge of Tureen's meeting with Wahidul.

"The evidence proves professional misconduct by Tureen Afroz," he said.

Citing the law, International Crimes (Tribunals) Act, he said a prosecutor can only help the investigators after informing the chief prosecutor.

Zead said the evidence against Tureen and Tipoo's letters were sent to the law ministry.

He said she would be sacked if the allegation was proved.

"She may lose her Bar Council certificate [if she is found guilty]. She may also face criminal charges. But that's for the law ministry to decide," he added.

Law Minister Anisul Huq told the media earlier in the day that they were acting on the matter.

According to Tipoo's letter, Tureen's accomplice 'Farabi', Wahidul's wife, and another elderly person were also present in the alleged meeting.
Sanaul said meeting a suspect during trial is against the ethics for a prosecutor.

Referring to the audio tapes, he said, "There are many things on the case in the conversations and these suggest case documents were transferred."

"The record suggests she was wearing burqa and introduced Farabi as her husband. They discussed things that go against the case. It was said that the case was totally motivated. It seems to me that it was ethically wrong."

He also said they did not want any controversy surrounding the tribunal.

"We don't want our achievements made through hard labour to get marred," Sanaul added.

Ekattorer Ghatak Dalal Nirmul Committee, an organisation seeking justice for crimes against humanity committed during the 1971 Liberation War, has called an emergency meeting for Saturday to discuss the issue about its member Tureen.

The organisation's President Shahriar Kabir told bdnews24.com he called the meeting after speaking to the ICT prosecution and Tureen.

"It should be investigated first…No one should be treated like a convict before the charges are proved," he said.

Tureen said in the Facebook post that the allegation against her was under investigation.

The investigators of the case against Wahidul have been ordered to submit their report on Thursday.


Uploaded By : International Crimes Strategy Forum (ICSF)


This item has been recorded here as part of ICSF's Media Archive Project which is a crowd sourced initiative run by volunteers, a not for profit undertaking to facilitate education and research. The objective of this project is to archive media items generated by different media outlets from around the world - specifically on 1971, and the justice process at the International Crimes Tribunal of Bangladesh. This archive also records items that contain information on commission, investigation and prosecution of international crimes around the world generally. Individuals or parties interested to use content recorded in this archive for purposes that may involve commercial gain or profit are strongly advised to directly contact the platform or institution where the content is originally sourced.
Facebook Comments
comments