অভিযুক্ত তুরিন আফরোজের দুর্নীতি প্রসঙ্গে একাত্তরের ঘাতক দালাল নির্মূল কমিটির বিবৃতি
Date : Wednesday, 1 August 2018
Author : একাত্তরের ঘাতক দালাল নির্মূল কমিটি
Published at (city) : Dhaka
Keywords : tureen afroz, Tureen Afroz and Wahidul Hoque, Wahidul Hoque, একাত্তরের ঘাতক দালাল নির্মূল কমিটি
Language : Bengali
Entry Type : Press release
Publication Date : Saturday, 12 May 2018
Content :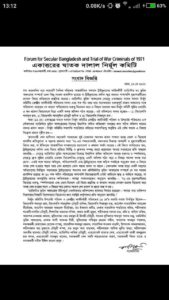 Uploaded By : International Crimes Strategy Forum (ICSF)


This item has been recorded here as part of ICSF's Media Archive Project which is a crowd sourced initiative run by volunteers, a not for profit undertaking to facilitate education and research. The objective of this project is to archive media items generated by different media outlets from around the world - specifically on 1971, and the justice process at the International Crimes Tribunal of Bangladesh. This archive also records items that contain information on commission, investigation and prosecution of international crimes around the world generally. Individuals or parties interested to use content recorded in this archive for purposes that may involve commercial gain or profit are strongly advised to directly contact the platform or institution where the content is originally sourced.
Facebook Comments
comments