PRESS STATEMENT: On "Skype Conspiracy"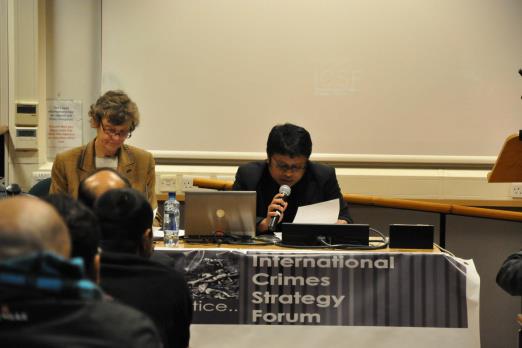 [Responding to recent events, this statement was read out by Rayhan Rashid (Member, ICSF) in a seminar organised by ICSF on 14 December 2012, at the School of Oriental and African Studies (SOAS), entitled "Justice in Perspective"].
The so-called exclusive story of Economist regarding certain illegally obtained audio conversations and illegally obtained private emails between a Judge of the International Crimes Tribunal of Bangladesh and Dr Ahmed Ziauddin and other members of International Crimes Strategy Forum (ICSF) – have been making rounds in the media. This is our first official response to the incident pending further inquiries and possible legal action.
On December 06, 2012, the International Crimes Tribunal (ICT) issued a ruling against the UK based newsweekly, The Economist, to explain how they got hold of private conversations and email communications between the Chairman of the ICT-I Mr. Justice Nizamul Huq and a Brussels-based international criminal law expert Dr. Ahmed Ziauddin. In the ruling, The Economist was 'directed to keep secret the information which they have gathered from the Skype and e-mail accounts as well as the computer of the Chairman'. Seemingly, the Judge became aware of this incident when The Economist contacted him and claimed that they have 17 hours of recorded conversations and over 230 emails. Right after this ruling, materials from these conversations started leaking out into the media and 'Amardesh' a pro-BNP, pro-defense Dhaka based daily newspaper, published some excerpts of these alleged conversations and later some audio recordings were published in YouTube. Economist finally published their report online on December 12 (Printed version: December 15) and, coincidentally, on the same day an archive of all emails and Skype conversations were also uploaded on a different single-purpose website.
This is too early to comment, but if the audio and screenshots have indeed originated from the Judges computer, we can assume that the malware or spyware used to hack the machine also compromised the whole computer. This assumption leads us to believe:
All passwords have been compromised

All files in the machine have been compromised

Someone at some point, operating remotely, had total control of that machine
The malware or spyware used in Justice Huq's machine either took those screenshots, or someone else took those screen shots by using the Judge's password and illegally logging into the Judge's gmail account. Regardless of how it was done, it is possible that, not only the communication between the Judge and Dr. Ziauddin has been compromised, all other communications that took place between the Judge with any other parties have also been compromised, including communications with other judges, or sensitive communications that may involve security of the witnesses who are under protection of the Tribunal. It must be noted that, there is a witness protection regime in place under the ICT the singular aim of which is to protect the witnesses of both sides from intimidation, and inducements. And it needs no mention that the judges of the ICT are the custodian of this regime as keepers of secret involving protected witnesses.
Since issues related to the the matter is now legally pending before the ICT and the Supreme Court of Bangladesh, we do not confirm or deny the authenticity of the published materials considering:
1) these are all materials that are admittedly obtained and circulated illegally;
2) we did not have the opportunity to identify the people involved in obtaining these material although there are some obvious suspects;
3) there was no opportunity to verify the chain of possession to ascertain to what extent these materials have been tampered with as far as their integrity is concerned; and
4) some materials indeed clearly show evidence of being tampered with and therefore altered digitally.
We at ICSF view this as a planned crime and an organised attack against an ongoing justice process that is in place to end impunity for international crimes towards establishing rule of law. We are deeply concerned that such extent of criminal breach of privacy and confidentiality of a sitting judge and an individual has taken place. We expect all concerned authorities including the Government of Bangladesh to act decisively against such a major cybercrime.
To dispel all myths and speculations, it is perhaps necessary to state what ICSF is, and what kind of assistance this network has been providing since the beginning of this justice process in Bangladesh. ICSF is an independent global network of experts, activists, and volunteers who are committed to end impunity. This international network was setup to support the justice process at the International Crimes Tribunal (ICT), Bangladesh. Since its inception, ICSF has been interacting and engaging with relevant authorities to assist the justice process that is in place to bring to account the perpetrators of 1971 alleged of international crimes. United, the coalition stands against impunity.
Whatever research, and other assistances the ICSF has provided the International Crimes Tribunal was at the request of the ICT as clearly indicated in Justice Huq's order made in the open court on 6 December 2012. We doubt there are any individual or any entity in present Bangladesh, who believe in justice and impunity for the crimes committed in 1971, who can or will actually refuse to respond to such requests of assistance in time of a dire need of the country for justice for the victims of 1971. It also needs to be mentioned that whatever assistance in terms of research we provided to the ICT, we did not provide that to a single judge or to any particular individual, but to the ICT and to the process generally. The support and assistance we provided to the ICT was informal and on a pro bono basis, and we preferred it that way exactly to avoid the unwarranted attention, intrusion and danger to lives and security that some of our members are facing at the moment due to irresponsible handling of illegally obtained material by a section of the media. Some of our members/volunteers have already been embroiled in this issue and facing undesired attention including death threats by the Islamist groups opposing trials who are determined to save their Islamist leaders from being prosecuted for International Crimes. For example, Dr Ahmed Ziauddin has received death threats which has already been reported to the Belgian police. Pictures of my family members have also been uploaded on a number of Jamat-I-Islami supporting websites and in the social media, inciting attacks.
ICSF, of course, is not deterred by such vicious campaigns launched against it by certain Islamist groups as it considers the justice process at ICT as 'yet to be completed segment of liberation war of 1971', now fought by new generation of Freedom Fighters, for a secular, democratic, non-discriminatory rule based prosperous Bangladesh. We will not deter, we will not falter, and we will most certainly carry on our work supporting and assisting the justice process at ICT from every possible avenue we can.
ICSF welcomes the Tribunal and the High Court Division's initiatives towards resolution of the controversy. But ICSF also believes, the Government should have acted fast and it probably has lost time when opponents of justice for 1971 crimes were allowed to organise and run such a sophisticated disinformation campaign with illegally obtained materials that were highly suspect to begin with. Because, these are supposedly the materials that are obviously incomplete, and apparently been tampered with, presented out of context and selectively – only to suit the spin of the actors who are using these material to create wrong perceptions about the ICT and raise doubt about its procedural integrity. The Government simply cannot let this to continue allowing these to disrupt the justice process, the workings of ICTs, and the assistance and support it receives from the civil society organisations such as ICSF.
In the post Leveson inquiry era in Britain one would assume that such hacking incidents will be taken very seriously by any responsible media outlet. The Economist, however, is apparently relying on "public interest" defence, although they have been obtained, transferred and disseminated outside the periphery of law. We at ICSF believe that the term "public interest" must be construed judiciously taking into account the inalienable privacy and other human rights of all actors concerned. How it satisfies the public interest test when the source of material clearly indicates illegal intrusion that has in all possibilities jeopardised the existing witness protection regime of the ICT? Would it be a matter of public interest to not question the illegal source and their motives?
As of now, we still do not have sufficient information to pinpoint the party or parties responsible for this hacking incident.
Therefore, we call on the concerned with the following demands and requests:
— A full inquiry should be initiated by the Government of Bangladesh. Such inquiry should naturally be initiated at Bangladesh's end but it may be necessary to seek assistance from the UK government to deal with the international components. We will issue a detailed position paper and make it public for the government's consideration – where we intend to set out our proposed terms of reference that such an inquiry may have, including proposals for possible legal action.
— Economist's own internal inquiry into the conduct of certain editors and reporters may be in order.
— This issue has once again confirmed our concern that we communicated many times to the government for the need to resource the Tribunal adequately. The judges of the ICT are obligated under law to "ensure fair trial". How can they fulfill this obligation if they are not provided with sufficient research and other necessary supports? We call on the Government of Bangladesh to consider this issue seriously.
Thank you.
[See also this statement calling for unity: link ]