Naming The Names: Introducing The Pakistani War Criminals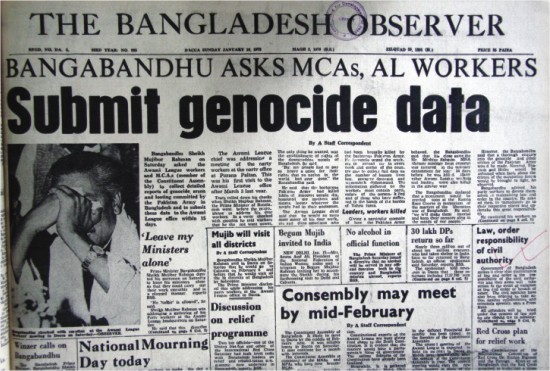 [ICSF's Note: This piece by Dr Ahmed Ziauddin, a Member of International Crimes Strategy Forum (ICSF), was first published on 23 November 1999 at NFB, and now republished by ICSF after almost 15 years. The list of Pakistani war criminals mentioned in the article still merit consideration. It is our pleasure to bring this article into recirculation for readers interested in the issue of justice for 1971 genocide in Bangladesh. Most information presented here are still largely valid and useful. At the time of writing this piece the writer was teaching law at Brussels Catholic University side by side heading the Brussels based Bangladesh Centre For Genocide Studies]
When on 17th April 1973 the Government, for the first time, announced its decision to try 195 Pakistani Prisoners of War for serious crimes, it became clear that it has abandoned its earlier policy to try all Pakistani soldiers and their collaborators. Rhetorical political statement was replaced by pragmatic policy.
The Government, it was revealed, screened these individuals following a special investigation commissioned to identify the major war criminals. This report was never made public, nor the names of the 195 principal planners and executioners of Bangladesh genocide.
In a number of articles on Bangladesh genocide, and in seminars, I have urged publication of that report, which, at least, would reveal the names of the alleged criminals for others to pursue. Although we had fairly good idea about the people involved, but it was rather difficult, until now, to be absolutely certain about the existence of the report.
Recently, sources at Liberation War Museum, an organisation in Bangladesh that devotes itself exclusively on Bangladesh genocide and liberation war, has supplied some documents, which appears to be the long lost report, or at least its part, on the principal war criminals.
This article intends to virtually reproduce the materials, but before its done, a brief background to refresh our memories.
Pakistani soldiers lost on 16th day of December 1971 its Eastern part, despite their freehand in prosecuting genocidal war against largely unarmed Bangalee population, hundreds and thousands of its best fighters too surrendered to the Allied Command. Lt.Gen.Amir Abdullah Khan Niazi led his soldiers to put down the arms which were henceforth freely used to keep Pakistan's integrity. Bangladesh was born and Pakistan disintegrated.
The Government of Bangladesh that led the war of liberation from exile returned to its capital following Pakistan's defeat. The new government hold its first cabinet meeting in liberated Dacca on 23rd December 1971 and was reported that 89.000 regulars of the Pakistan Army have surrendered in Bangladesh and five thousand of them had already been removed to India.
The Home Minister Mr. A.H.M.Kamruzzaman declared on 24th December 1971 that the collaborators would not escape from justice, and a large number of collaborators, including former Governor, Dr. A.M.Malik, and Members of his Cabinet, were officially reported to have been taken in custody.
On 31st December 1971, the cabinet decided to set up an Enquiry Committee to probe into the dimension and extent of genocide committed by the Pakistani army in Bangladesh. The Prime Minister asked the MCAs and Awami League workers to submit data regarding genocide. A Presidential Order providing for the setting up of special tribunals to
try collaborators of the Pakistan armed forces was issued. The Prime Minister Sheikh Mujibur Rahman declared on 29th January 1972 that his government would not forgive those who were guilty of genocide in Bangladesh. Accordingly, in accordance with the Geneva Convention, the Government decided to set up two tribunals- one for the trial of persons accused of genocide and another for the trial of war criminals.
After the withdrawal in March 1972 of the Indian Army from Bangladesh, the Indian Prime Minister arrived in Dacca. In the public meeting on 17th March at Suhrawardy Uddyan attended by Mrs.Indira Gandhi, Sheikh Mujibur Rahman declared that the Pakistani Prisoners of War would be handed over to Bangladesh for trial.
The Government then appointed Mr.S.R.Pal and Mr.Serajul Haque (MCA) as the Chief Government Prosecutors of the War Crimes Tribunals to try the Pakistani Prisoners of War accused of genocide. Indira Gandhi then on 12th July told in New Delhi that she considered war crimes trial issue to be bilateral matter between Bangladesh and Pakistan. On the eve of
the first Victory Day anniversary on 16th December 1972, the Prime Minister reiterated that the trial of war criminals in Bangladesh would be held. Regardless of Government's repeated pronouncement, the government soon realised impossibility of putting surrendered thousands of Pakistani Army personnels to trial, and on 17th April 1973 announced its decision to try 195 Pakistani Prisoners of War for serious crimes.
Introducing the war criminals:
Following is the list of the war criminals with accusations and charges.
Name: Lt.Gen.Niazi
No: PA 477
Post held: Corps Commander, Martial Law Administrator Zone B
Allegations:
The accused is alleged to have arrived incognito at least by the 1st of March in Dacca. Thereafter, he participated in a series of high level conferences where the military operations connected with genocide were planned and finalised. His participation was under cover. After he took over as Martial Law Administrator (of Zone B), the accused made a large number of public statements and issued a large number or orders in respect of the plan of genocide and the military operations connected therewith. He also took upon himself the whole responsibility for all criminal acts by men under his command and indeed for all acts of his troops during the military occupation of Bangladesh. Evidences are available about mass rape and the criminal violation of women by the men under his command. It is alleged that he was personally present on the scene of the systematic murder of Bangalee intellectuals on or about 12th to 16th December 1971. He is also alleged to have visited the site for the plan of murder of intellectuals in Brahmanbaria prior to the commission of the acts. He is also alleged to have illegally detained at least 50 women and girls in Dacca "for his personal pleasure".
Proposed charges:
Conspiracy to wage aggressive war, conspiracy to commit genocide, conspiracy to commit crime against humanity, complicity in the commission of genocide and war crimes and crimes against humanity. Failure to maintain discipline, false arrests, rape, assult and battery and murder and criminal violation of international agreements.
Name: Major General Rao Farman Ali Khan
No: PA 1364
Post Held: Deputy Martial Law Administrator Zone B (as Brigadier in March 1969 to July 1970); from July 1970 Major General Civil Affairs)
Functions:
To use the civil administration for the purpose of Martial Law, screening of civil servants before posting in districts, political
appreciation through daily or weekly meetings either with civil officers or intelligence officers and feeding information to military junta in Islamabad.
Allegations:
Participation in all secret meetings held by General Yahya Khan from 15th March onwards in Dacca Cantonment. Participation in all military exercises in Bangladesh. His recommendations and formulation of the master plan to eliminate all Bengalee intellectuals and Awami Leaguers and selection of time and date or army crackdown in Bangladesh in executing the master plan.
Proposed charges:
Conspiracy to wage a war of agreession, conspiracy to commit genocide and crime against humanity, complicity in the commission of genocide, war crimes and crimes against humanity. Execution of plan of genocide
and crimes against humanity.
Name: Major General Mohammad Hussain Ansari
No. PA 4404
Post held: Station Commander, Dacca (prior to 25th March 1971). Station Commander, Chittagong, G.O.C. 9th Division, Sub-Martial Law Administrator, Sector III.
Allegations:
Evidence indicates that the accused was associated with and participated in planning of the military operations that were launched from 25th March 1971. He appears to have attended a number of high level staff and operational planning sessions in which the details of the plan of genocide were finalised. In Chittagong, he was associated with and directed the operations designed to eliminate the Bengalee military personnel serving in Chittagong Garrison. When he assumed
Command as GOC, 9th Division and Sub-Martial Law Administrator, Section III, he became responsible for a large area comprising Jessore, Jinadah, Barisal, Khulna, Khulna Port, Satkhira, Magura, Kushtia, Faridpur, Chaudanga, Gopalgang, Madaripur, Patuakhali, Bhola and Bagerhat. There is wide evidence of widespread mass atrocities including murder, torture, rape and arson in the area under his control or members of the formation under his command as from July 1971 till
surrender.
Proposed charges:
Conspiracy to commit genocide and crimes against humanity. Execution and direction of operations in pursuance of the conspiracy to commit genocide, mass murder, torture, rape, arson, false arrest and detention etc.
Name: Colonel M.Yakub Malik
No: PA 3837
Unit: 53 Field Artillery Regiment (53 Brigade 14 Division)
Post held: C.O.
Allegations:
His unit was stationed at Comilla even prior to 25th March 1971 and remained in Bangladesh till surrender. On and between the 25th and 29th March 1971, 300 Bangalee military officers and other ranks were disarmed and detained in Comilla at Brigade Headquarters. In addition, 1600 civilians were also arrested. On the 30th March 1971, batches of 15 and 20 persons from among those detained were taken out and killed in the precincts of Brigade Headquarters. In the same night with the help of petromax light, these bodies of persons killed were buried in mass graves in the cantonment limits. The accused was at all material times in Comilla and on the date of the killings was actually present through the day at Brigade Headquarters where the killings occurred.
Proposed charges:
Execution of planned genocide, mass murder, torture, criminal violation of international agreements, false arrest and detention etc.
Name: Lt.Col. A. Shams-ul-Zaman (also known as Col.Shams)
No: PA 4745
Unit: 22 FFR and Infantry Battalion (107 Brigade, 14 Division)
Post: Assistant Sub-Martial Law Administrator (Khulna) till June 1971;
Sub-Martial Maw Administrator (Jessore) July 1971.
Allegations:
The accused was stationed at Jessore even prior to 25th March 1971. Later, he moved to Khulna and appears to have returned to Jessore. He was at all material times in Bangladesh. There is evidence of widespread atrocities in area Jessore-Khulna. For example, on 4th April 1971, military personnel of Pakistani army, in company strength, went to Chachara Mahalla of Jessore town and opened indiscriminate fire killing 200 persons. From March to May 1971, nearly 2000 persons in
batches were brought to Khulna Circuit House, tortured and killed at Forest Ghat which is 200 yards from the Circuit House. During this period, the accused was living in Circuit House and personally inspected the torture chambers.
Proposed charges:
Execution of planned genocide, mass murder, torture, criminal violation of international agreements, false arrest and detention, etc.
Name: Major Mohammad Abdullah Khan
No: PTC 5911
Post held: Deputy Sub-Martial Law Administrator, Sub-Sector 12, Brahamanbaria.
Allegations:
On 21st November 1971, the accused is alleged to have taken some 50 persons from Brahmanbaria sub-jail and killed them at a place near Pairtala Bridge where subsequently 42 bodies were disinterred. Eyewitness accounts are available. This area was visited by Lt.General Niazi and Major General Majid Khan prior to the murder of intellectuals
in Brahmanbaria. Evidence discloses a design to commit genocide in that area.
Proposed charges:
Execution of plan of genocide, murder, false arrest, etc.
Name: Major Khurshid Omar
No: PA 4553
Unit: 614 Field Intelligence Unit, Jessore Cantonment.
Allegations:
The accused was in-charge of field intelligence unit at Jessore Cantonment at least from March 1971 till the surrender. He appears to have had responsibility for the collection of political intelligence and submission of intelligence reports of the political situation in that area. He was also in-charge in this connection with the interrogation and screening of Bangalee military and civilian personnel with a view to executing the plan of genocide; At least 900 persons were brought before him interrogated and in many cases tortured under his order and or supervision. The accused appears to have specialised
in devising ingenious instruments of torture.
Proposed charges:
Execution of the plan of genocide, murder, torture, false arrest and
detention and criminal violation of international law and agreements.
Name: Captain Abdul Wahid
No: PSS 8464
Unit: 30 FF
Allegations:
The accused was posted in Dacca city at about the time of military crack down which commenced on the 25th March 1971. Evidence exists of his participation in the acts of murder, loot and arson that were perpetrated on that day in Dacca.
Proposed charges:
Murder, loot, arson, failure to maintain discipline.
List Of 200 Pakistani War Criminals
Nos P.O.W. No. PA No. Rank Name Unit
1 1 PA 477 Lt.Gen. Amir Abdullah Khan Niazi East Comd.
2 2 PA 1170 Maj.Gen Nazar Hussain Shah 16 DIV
3 3 PA 4404 Maj.Gen. Mohhammad Hussain Ansari 9 DIV
4 4 PA 882 Maj.Gen. Mohammad Jamshed DG EPCAF
5 5 PA 1734 Maj.Gen. Qazi Abdul Majid Khan 14 DIV
6 6 PA 1364 Maj.Gen. Rao Farman Ali Civil Affairs & Advisor to Governor E.P.
7 7 PA 1674 Brig. Abdul Qadir Khan 93 BDE
8 8 PA 2235 Brig. Arif Raja HQ SIG
9 9 PA 1109 Brig. Atta Muhammad Khan Malik 7 BDE
10 11 PA 1897 Brig. Bashir Ahmed CAF
11 12 PA 100088 Brig. Fahim Ahmed Khan HQ EC
12 13 PA 1738 Brig. Iftikhar Ahmed Rana 313 BDE
13 16 PA 3414 Brig Manzoor Ahmed 57 HQ BDE
14 17 PA 3547 Brig. Manzoor Hussain Atif 177 BDE
15 18 PA 2111 Brig. Mian Mansoor Muhammad 39 DIV
16 19 PA 1148 Brig. Mian Taskin uddin 91 BDE
17 20 PA 2729 Brig. Mir Abdul Nayeem 34 HQ BDE
18 22 PA 1999 Brig. Mohammad Aslam 53 BDE
19 23 PA 2103 Brig. Mohammad Hayat 107/407 BDE
20 24 PA 1044 Brig. Mohammad Shafi 23 HQ BDE
21 25 PA 1702 Brig N.A.Ashraf CMD Natore GRN
22 26 PA 3430 Brig. S.A.Ansari Rangpur GRN
23 27 PA 3548 Brig. Saad Ullah Khan S.J. 27 BDE
24 28 PA 1880 Brig. Syed Asghar Hasan Sylhet Force
25 29 PA 2110 Brig. Syed Shah Abul Qasim C.C.ATY ECO
26 30 PA 2130 Brig. Tajmmal Hussain Malik 205 HQ BDE
27 35 PA 1817 Col. Fazle Hamid 314 HQ BDE
28 37 PA 3799 Col. K.K.Afridi 9 DIV
29 44 PA 1963 Col. Mohammad Khan ISI
30 45 PA 100115 Col. Mohammad Musharaf Ali 14 ADMS DIV
31 58 PA 2200 Lt.Col. Abdul Ghaffor HQ SIGEA
32 67 PA 4489 Lt.Col. Aftab H.Quereshi 33 Baluch
33 57 PA 3568 Lt.Col. Abdul Rehman Awan CAF
34 60 PA 3347 Lt.Col. Abdul Hamid Khan ML HQ
35 65 PA 4087 Lt.Col. Abdullah Khan EPCAF
36 68 PTC 4318 Lt.Col. Ahmed Mukhtar Khan 30 FF
37 72 PA 4062 Lt.Col. Amir Mohammad Khan 7 SEC ML
38 74 PTC 4329 Lt.Col. Amir Nawaz Khan 13 FF
39 73 PA 5027 Lt.Col. Amir Mohammad Khan 34 Punjab
40 55 PA 4745 Lt.Col. A.Shams ul Zaman 22 FF
41 78 PA 4608 Lt.Col. Ashiq Hussain 24 FF
42 81 PA 3248 Lt.Col. Aziz Khan 32 Baluch
43 202 PTC 3239 Lt.Col. Ghulam Yasin Siddiqi ST HQ Dacca AA & QMG
44 97 PTC 3711 Lt.Col. Isharat Ali Alvi 14 HQ Inf.Div.
45 167 PA 4441 Lt.Col. Mukhtar Alam Hijazi EPCAF
46 170 PA 3600 Lt.Col. Mustafa Anwar 15 Baluch
47 116 PA 4100 Lt.Col. M.R.K.Mirza 33 Punjab
48 128 PA 4301 Lt.Col. Matloob Hussain 18 Punjab
49 140 PA 2700 Lt.Col. Mohammad Akram Tochi Scout
50 152 PSS 2590 Lt.Col. Mohammad Akbar EPCAF
51 147 PTC 3645 Lt.Col. Mohammad Nawaz 15 Baluch
52 169 PA 4766 Lt.Col. Mumtaz Malik HQ East Comd.
53 138 PA 4416 Lt.Col. M.M.M.Baiz 8 Baluch
54 48 PA 100207 Col. Mohammad Matin 72 ADMS MED BN
55 129 PA 2917 Lt.Col. Mazhar Hussain Chauhan ISSC
56 168 PA 3610 Lt.Col. Mukthar Ahmed Sayed HQ MLA Cav
57 171 PSS 2899 Lt.Col. Mustafajan HQ MLA Zone
58 175 PA 2821 Lt.Col. Oman Ali Khan SURVEY Sec
59 180 PA 5074 Lt.Col. Reaz Hussain Javed 31 Punjab
60 178 PA 4550 Lt.Col. Rashid Ahmed HQ EPCAF
61 196 PA 4817 Lt.Col. Seikh Mohammad Naeem 39 Baluch
62 192 PA 3932 Lt.Col. Sarfaz Khan Malik 31 Punjab
63 181 PA 4920 Lt.Col. S.F.H.Rizvi 32 Punjab
64 182 PA 4560 Lt.Col. S.H.Bokhari 29 CAV
65 205 PA 4368 Lt.Col. Syed Hamid Safi DEF Purchase
66 201 PA 3817 Lt.Col. Sultan Badshah 8 EPCAF
67 200 PA 5178 Lt.Col. Sultan Ahmed 31 Baluch
68 199 PA 4518 Lt.Col. S.R.H.S.Jaffari HQ SID EA
69 216 PSS 3743 Lt.Col. Zaid Agha Khan HQ EF LOG
70 122 PA 3837 Lt.Col. M.Y.Malik 14 HQ DIV
71 231 PA 7059 Major Abdul Ghafran East Comd.
72 284 PA 5640 Major Anis Ahmed 205 HQ INF BDE
73 290 PA 7214 Major Arif Javed 22 CAV
74 304 PA 6736 Major Atta Mohammad 29 Baluch
75 233 PSS 8394 Major Abdul Hamid 31 Punjab
76 301 PA 7299 Major A.S.P.Quereshi 25 Punjab
77 294 PA 7530 Major Ashfaq Ahmed Cheema 39 Baluch
78 241 PSS 8547 Major Abdul Khaleq Kayani 6 Punjab
79 256 PTC 4664 Major Abdul Waheed Mughal 22 Baluch
80 235 PA 3838 Major Abdul Hamid Khattak ML HQ
81 262 PA 7251 Major Ahmed Hassan Khan EPCAF
82 283 PRR 4438 Major Anees Ahmed Khan 15 Baluch
83 255 PA 4990 Major Abdul Waheed Khan 31 Baluch
84 320 PA 5868 Major Ch.Mohammad Jahangir HQ MLA ZB
85 348 PA 4122 Major Ghulam Mohammad 2 Baluch
86 358 PTC 4390 Major Gulam Ahmed EPCAF
87 344 PA 7439 Major Ghazanfar Ali Nasir EPCAF
88 363 PA 6959 Major Hadi Hussain 24 FF
89 367 PA 6646 Major Hasan Mujtaba 8 Baluch
90 376 PTC 5733 Major Iftikhar Uddin Ahmed 33 Baluch
91 374 PA 6729 Major Iftikhar Ahmed 8 Punjab
92 712 PA 5250 Major Shah Muhamad Osman Faruqi 7 Sig. BN
93 419 PA 4553 Major Khursheed Oman 814 FIU
94 423 PTC 3947 Major Khurshid Ali Survey Sec.
95 414 PA 7576 Major Khizar Hayat 4 FF
96 485 PA 7657 Major Mehr Mohammad Khan 31 Baluch
97 431 PTC 5911 Major M.Abdullah Khan 27 Bde
98 533 PA 7253 Major Mohammad Afzal 8 Baluch
99 411 PA 7405 Major M.Ishaq EPCAF
100 553 PTC 3246 Major Mohammad Hafiz Raja 34 Punjab
101 595 PA 6870 Major Mohammad Younas 32 Punjab
102 504 PA 6793 Major Mohammad Amin 107 HQ BDE
103 481 PS 3935 or 2935 Major Mohammad Lodhi Natore Grn
104 493 PA 6554 Major Mirza Anwar Beg 88 ORD COY
105 428 PTC 4157 Major M.A.K.Lodhi 16 HQ Div
106 459 PSS 4245 Major Madad Hussain Shah 18 Punjab
107 544 PTC 3007 Major Mohammad Ayub Khan 97 BDE
108 586 PSS 6110 Major Mohammad Sharif Arian 33 Punjab
109 555 PA 5964 Major Mohammad Iftikhar Khan 202 HQ BDE
110 455 PA 2818 Major M.Yahya Hamid Khan 6 Punjab
111 592 PSS 6150 Major Mohammad Yamin ASC
112 527 PA 5141 Major Mohammad Ghazanfar ISSC
113 583 PA 7231 Major Mohammad Sarwar 33 Punjab
114 579 PTC 3016 Major Mohammad Siddique 205 HQ INF BDE
115 543 PSS 6092 Major Mohammad Ashraf HQ EPCAF
116 506 PSS 4634 Major Mohammd Ashraf Khan 53 HQ BDE
117 604 PA 5312 Major Mohammad Safdar ISSC
118 496 PA 6067 Major M.M.Ispahani HQ Eastern Cmd.
119 562 PA 6440 Major Mohammad Jamil EPCAF
120 580 PA 7559 Major Mohammad Safi 32 Punjab
121 547 PA 4320 Major Mohd.Azim Qureshi Qures ISSC
122 525 PA 6460 Major Mohd.Zulficar Rathore 13 Engr.BN
123 615 PA 5962 Major Mushtaq Ahmed Det.630 ASC
124 634 PSS 7996 Major Nasira Khan 26 FF
125 632 PA 4748 Major Nasir Ahmed 409 GHQ FIU
126 654 PTC 4632 Major Rana Zahoor Mohyydin Khan 18 Punjab
127 666 PA 8655 Major Rifat Mahmood 31 FD Regt.
128 667 PSS 6148 Major Rustam Ali 314 HQ Bde
129 651 ACO 390 Major R.M.Mumtaz Khan 31 Baluch
130 702 PA 6063 Major Sardar Khan HQ MLA
131 510 ACO 2099 Major Mohammad Azam Khan 12 A.K.
132 686 PRR 3389 Major Saif Ullah Khan ISSC
133 674 PA 6893 Major S.T.Hussain 734 FIC
134 730 PSS 4224 Major S.M.H.S.Bokhari 24 FF
135 689 PSS 8015 Major Sajid Mahmud 32 Punjab
136 723 PA 7415 Major Sher ur Rehman 29 CAV
137 695 PTC 5930 Major Salamat Ali EPCAF
138 690 PA 6858 Major Sajjad Akhtar Malik ISI
139 698 PA 5684 Major Saleem Inayet Khan 57 HQ ML ZB
140 735 PA 7289 Major Sultan Saud EPCAF
141 705 PA 6542 Major Sarfraz uddin ISI
142 720 PA 5080 Major Shaukatullak Khattak 36 Sig.BN
143 737 PA 7428 Major Sultan Surkhro Awan 33 Punjab
144 704 PA 7076 Major Sarfraz Alam EPCAF
145 706 PA 6851 Major Sarwar Khan Tochi Scout
146 756 PA 6272 Major Tafir ul Islam HQ Natore
147 785 PSS 8124 Major Zaumul Maluk 18 Punjab
148 806 PSS 8464 Captain Abdul Waheed 33 FF
149 817 PA 10202 Captan Aftab Ahmed 31 Baluch
150 858 PSS 8836 Captain Arif Hussain Shah ARTY EIZI EMD
151 815 PSS 9634 Captain Abrar Hussain 30 FF
152 853 PSS 9959 Captain Amjad Shabbir Bukhari 31 ED Regt. ARTY
153 876 PA 10129 Captain Ausaf Ahmed 53 Fd; Regt.
154 75089 PA 10185 Captain Abdul Qahar EPCAF
155 869 PA 10985 Captain Ashraf Mirza 12 AK INF BN
156 802 PSS 9904 Captain Abdul rashid Nayyar 19 SIG BN
157 849 PSS 8005 Captain Aman Ullah HQ Natore GR
158 882 PSS 9363 Captain Aziz Ahmed 31 FD Regt.
159 221 PSS 9440 Captain Gulfraz Khan Abbasi 22 FF
160 951 PSS 8144 Captain Ikramul Haq 29 CAV
161 947 PA 10241 Captain Ijaz Ahmed Cheema ISI
162 941 PSS 8867 Captain Iftikhar Ahmed Gondal 31 Punjab
163 964 PSS 8821 Captain Ishaq Parvez 24 FF
164 960 PSS 9614 Captain Iqbal Shah 29 CAV
165 976 PSS 6910 Captain Javed Iqbal 33 Baluch
166 972 PSS 9765 Captain Jahangir Koyani RFT CAMP
167 985 PA 7838 Captain Karam Khan 315 HQ BDE
168 1047 PA 11554 Captain Manzar Amin 25 FF
169 1255 PSS 9387 Captain Muzaffar Hussain Naqvi 18 Punjab
170 1178 PA 11551 Captain Mohammad Sajjad 80 Fd. Regt.
171 1201 PSS 8820 Captain Mohammd zakir Raja (Muhammad Zakar Khan, Arty) ISSC
172 1126 PA 7862 Captain Mohammad Arif 14 HQ DIV
173 1131 PSS 9018 Captain Mohammad Ashraf 12 Punjab
174 1149 PSS 8977 Captain Mohammad Iqbal 12 Punjab
175 1096 PSS 9927 Captain Mohammad Rafi Munir 18 Punjab
176 1159 PSS 10287 Captain Mohammad Jamil 6 Punjab
177 1238 PSS 9077 Captain Naeem Sadiq 409 HQ FIU
178 1351 PSS 9454 Captain Sher Ali 39 Baluch
179 1322 PSS 8093 Captain Salman Mahmood 26 FF
180 1325 PA 11009 Captain Shamshed Sarwar RFN CAMP
181 1343 PSS 7745 Captain Shahid Rehman 29 CAV
182 1321 PSS 10431 Captain Saleh Hussain 18 Punjab
183 1350 PSS 9508 Captain Shaukat Nawaz Khan 6 Punjab
184 1396 PA 7898 Captain Zahid Zaman 53 HQ BDE
185 1505 PSS 11843 Lt. Munir Ahmed Butt 31 Baluch Regt
186 15532 PSS 12191 Lt. Zafar Jang 38 FF
187 641 PSS 6127 Major Nasir Ahmad Khan Sherwani 32 Punjab
188 338 PSS 8534 Major Fayaz Muhammad 29 Baluch
189 487 PA 4992 Major Mian Fakhruddin 91 HQ Inf.Bde
190 924 PSS 8880 Captain Hidayat Ullah Khan 29 Baluch
191 1102 PSS 10828 Captain Md.Siddiqui 27 Sig.Bn
192 993 PSS 10147 Captain Khalil ur rahman COD, Dacca
193 628 PA 6726 Major Nadir Parvaiz Khan 6 Punjab
194 934 PSS 10384 Captain Hassan Idris EPCAF PAKISTAN AIR FORCE
195 65483 P 953 Air Cdre Inam ul hoque Khan PF Dacca
196 65484 PAF 1069 Gr.Cpt. M.A.Majid Baig PF Dacca
197 65483 PAK 5332 Fl.Lt. Khalil Ahmed PAF PAKISTAN NAVY
198 71755 P 138 Rear Adm. Mohammad Shariff
199 71756 PN 108 Cmdre Ikramul Haq Malik Port Trust
200 71757 219 Cmdre Khatib Masud Hussain Base Comd.
Finally, it is stressed that the list only includes the names of the war criminals who surrendered and were taken as Prisoners of War. The list is inherently incomplete since it does not include other principal criminals who were in Bangladesh but left before December defeat.
Disclaimer: The views and opinions expressed in this article or in the comment section are those of the respective authors and do not necessarily reflect the official policy or position of International Crimes Strategy Forum (ICSF).